The Keillor House Museum Experience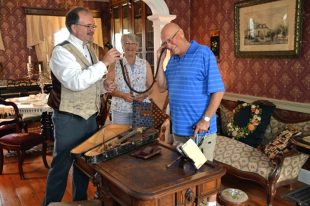 The maids and hired hands of Keillor House are here to guide you on a journey into a colourful corner of New Brunswick's past. The Keillor story is not one that you hear often: A tale of hard work and diligence where a simple yeoman-farmer from Yorkshire, England, raised his social status to become a respected Gentleman; no simple feat in those times. The story weaves through the handsome Georgian stone mansion and touches on place and politics of a young New Brunswick and leads through the entire Victorian era and a cavalcade of unique and interesting characters. Your journey also includes a visit to the Coach House where the Dorchester Penitentiary exhibit provides a glimpse into a world that most never see.
The Keillor House Experience offers something for everyone; and you never know, you just may get to meet John Keillor yourself.
Looking for your roots?  The Graydon Milton Library & Genealogy Centre at Keillor House Museum holds genealogical and historical materials related to Dorchester and the south east region and may be useful to researchers, writers and genealogists. Contact us for further information.
---
The St. James Textile Museum Experience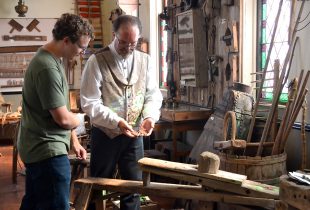 This former church built in 1884, features an insightful look into the making of textiles in the late 1800s and is home to turn-of-the-century blacksmith and carpentry tools, unique hand tools and a selection of items once used for daily domestic chores.
The textile exhibits cover the complete processes of making linen from flax and blankets from wool.  You can even try carding, spinning, and weaving on the antique looms while you are here.
---
Needle and Thread for the Bed Experience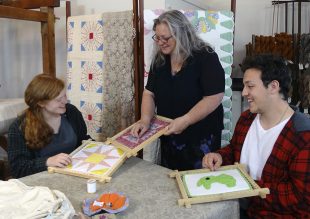 Spend your afternoon weaving new memories from New Brunswick's 19th century past. At the St. James Textile Museum start your own quilt block with instructions from resource experts, surrounded by some of the most breathtaking antique textiles ever crafted. Learn the age-old practices of carding, spinning and throwing the weave shuttle on the antique looms. Your adventure also includes a visit to see the textiles displayed at Keillor House Museum. Advance reservations required.
$35/person
Includes admission to both museums and take home quilt block
Reservations required: 506-379-6633
---
Keillor Hearth Cooking Experience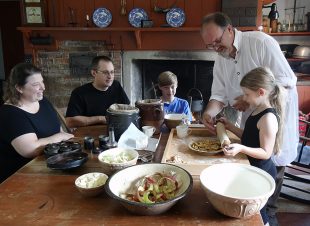 Experience the magic of the hearth. Prepare a stew in a cauldron over the open flame, cook biscuits in the wall oven and bake a pie in a Dutch oven over embers on the open hearth. All the way from starting the fire to eating the meal: experience the whole process. This slow food adventure is suitable for ages 8 and up and is designed for groups of 2 to 8 people. Advance reservations required.
$35/person
Reservations required: 506-379-6633
---
Historical Walking Tour of Dorchester
Review 13 points of interest, including the Village Square, Keillor House Museum, St. James Textile Museum, and buildings of historic significance to Dorchester's history as the shiretown of Westmorland County.
You can follow the tour online, or download the BaladoDiscovery app to your mobile device.
Total length of tour: 3.54 km.
---
Become a member of the Westmorland Historical Society and receive updates on events and activities.