Homey Elegance, Aspiring Gentility
The Furniture Makers of Westmorland County 1785 – 1850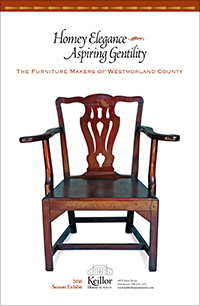 Don't miss this special exhibit, held over by popular demand. Rare furniture pieces from the Museum and private collections are on display with new information about their Westmorland County makers.
The collection had come to the museum from various donors over the years, many of whom did not know the provenance of their gift. As a result, we went for years without fully appreciating what we had.
A visit by Darrell Butler, Manager of Heritage Resources at King's Landing, changed all that. An expert in antique furniture, he was able tell us that a number of our pieces date to the late 18th and early 19th centuries, to the period when Keillor House itself was built. He also found that others were very likely made in this area.
Westmorland County was once home to furniture makers whose work will stand comparison to some of the best made in New Brunswick, itself long known to connoisseurs as the outstanding centre of fine furniture production in British North America. Among our rediscovered treasures are two drop-leaf tables, a chair and possibly a bedstead by Harmon Trueman of Point de Bute, who is also represented by pieces in the New Brunswick Museum and the King's Landing Collection; a secretary desk by Thomas Chapman of Point de Bute; and a butler's desk possibly by George Evans of Dorchester.
These and other items from the Keillor House Collection are supplemented by images of pieces now in the collections of the New Brunswick Museum, Fort Beauséjour-Fort Cumberland and King's Landing, and in several homes in Dorchester and Pointe de Bute.
The exhibit, which was authored by Gene Goodrich, can be seen throughout the season starting on Saturday, June 11. Join us at the season opening for the launch of Gene's latest publication, In Search of John Keillor: A Historian's Odyssey, and free guided tours of Keillor House by costumed staff.
---
Experience Collection
Needle and Thread for the Bed
As you step into the Keillor House Museum you immediately feel as if you've traveled back over 100 years into the past. The heart of some of New Brunswick's most prominent history started beating right here and you get to relive all of it through your guided tour. Sew your own quilt block with instruction from specifically trained resource experts, gathering inspiration from the breathtaking antique quilts that surround you. Head to St. James Church Textile Museum to complete your afternoon, where you'll try the age-old practices of carding, spinning wool and throwing the weave shuttle – skills that revolutionized the textile industry. It's a wonderful way to experience New Brunswick's 19th-century past.
$25/person
Includes admission to both museums and take home quilt block
Weekdays during the season 1-4 pm
Reservations required: 506-379-6633
---
Become a member of the Westmorland Historical Society and receive updates on events and activities.